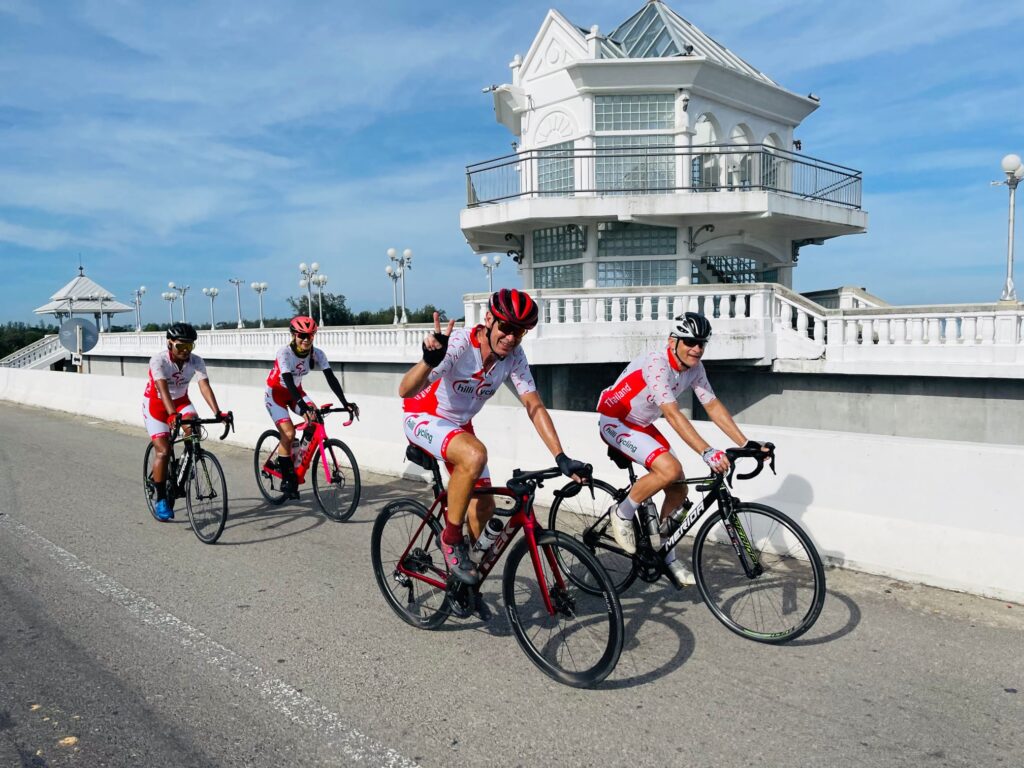 PERFECT SMOOTH SIDE ROADS FOR ROADIES THROUGHOUT STUNNING LANDSCAPES
Discover a year-round safe and true cycling paradise with Chilli Cycling. Thailand 'The Land of Smiles' offers countless back-roads with tarmac smooth like silk and stunning views.
The majority of them are nearly traffic-less. Most of the time we can ride side by side and chat with our new cycling team mates.
EXPERIENCED TOUR GUIDES AND SMALL GROUPS, WITH THE SPEED YOU LOVE
Our finely, tuned itineraries and awesome guides will make your cycling holiday an experience to remember. Our tours are led by our professional local guides with years of experience.
They will show you the hidden treasures of real, authentic Thailand. It is our aim that every participant rides at his or her own comfortable pace.
PREMIUM RENTAL BIKES AND PROFESSIONAL SERVICE YOU DESERVE
Rent a bike you love. Whether you are traveling with us or you want to see the sights on your own, we've got a bike for you. Perfect equipment is essential for a perfect cycling adventure.
We only rent out MERIDA quality racing bikes that we maintain ourselves according to our high standards.
WHY BOOK A CYCLING TOUR IN THAILAND?
Chilli Cycling creates exceptional bike experiences across Thailand and Asia.
After 15 years of organising cycling tours across Thailand and being co-founder of a touring company, it was time to do something more adventurous. Driven by a lifetime passion for cycling, my team and I decided to create our own brand. That was the birth of Chilli Cycling.
Tour program
BANGKOK TO KHAO LAK COASTAL RIDE Start at Bangkok and end Khao Lak 11 Days | 10 Nights, DISTANCE 791 km, 8 Stages/days 66 to 123 km a day, ROUTE PROFILE mainly flat and/or rolling. TOUR PRICE THB: 57,000.00
GEMS OF EASTERN THAILAND ROAD CYCLING TOUR Stat at Bangkok and end Bangsaray (Pattaya) 11 Days | 10 Nights, DISTANCE 754 km, 8 Stages/days 52 to 123 km a day, ROUTE PROFILE mainly flat and undulating. TOUR PRICE THB: 57,000.00
KRABI TO KOH LANTA – PEARLS OF SOUTHERN THAILAND Start at Krabi Ao Nang Beach and end Koh Lanta Island 11 Days | 10 Nights, DISTANCE 762 km, 8 Stages/days 60 to 120 km a day, ROUTE PROFILE mainly flat and undulating. TOUR PRICE THB: 57,000.00
MAGICAL MEKONG RIVER Start at Udon Thani and end Ubon Ratchathani 11 Days | 10 Nights, DISTANCE 833 km, 8 Stages/days 84 to 125 km a day, ROUTE PROFILE mainly flat and/or slightly rolling. TOUR PRICE THB: 57,000.00
TOUR OF PHANG NGA – RIDE THE CYCLING PARADISE Start at Khok Kloi, Natai Beach and end Khok Kloi, Natai Beach 11 Days | 10 Nights, DISTANCE 640 km, 8 Stages/days 66 to 105 km a day, ROUTE PROFILE mainly flat and undulating. TOUR PRICE THB: 49,000.00
PHUKET – PHANG NGA EXPLORER Start at Phuket and end Phuket 5 Days | 4 Nights, DISTANCE 334 km, 4 Stages/days 72 to 105 km a day, ROUTE PROFILE mainly flat and/or rolling. TOUR PRICE THB: 21,000.00